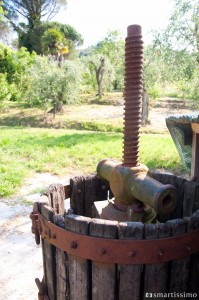 Podere Gori is a small family-run agriturismo, located in the Tuscan-emilian foothills of the Apennines in the province of Pistoia, Tuscany. The medieval village Montecatini Alto is situated directly above our property. Due to its elevation 100 meters above sea level, there you have a great view over the wide valley, Montecatini Terme and the adjacent villages.
We are surrounded by olive groves and some oak trees and acacia – a typical vegetation for this hilly landscape. The house is originated from the 18th century and was recently affectionately restored. Another reminder to the history of our house is the year of construction 1791. It is set in stone at the wall next to the entrance to the cellar. Another memory can be found at the frame of our main entrance door (MCXXX).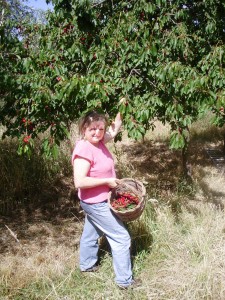 The entire structure was used for two generations for typical Tuscan agriculture. Currently we concentrate on manufacturing our own olive oil. We are proud of the about 600 olive trees surrounding our house. Some of them are centuries-old! Furthermore we are growing fruits and vegetables, sell our own honey and have fresh eggs from our little chicken farming. We sell our products on the weekly SLOW FOOD market nearby at Montecatini Terme. Besides all those we started our Agriturismo at the beginning of 2015. We love to give you a warm welcome, offering three double rooms each with a private bathroom! And if you like, you can enjoy homemade Tuscan delicacy.
Emanuela, the owner, runs her business and cares about everything around the kitchen, the vegetable garden and the chicken. Her whole family gives her strong support.